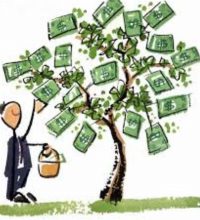 How do I make money daily ? A question most ask themselves everyday. Daily income is one of the most essential ways of getting rich, at this time .Looking at the various possibilities available to earn a daily income , most of us think the jobs or services that can be provided are beneath us. But what you don't realise is that those seemingly beneath you jobs have the potential to earn you millions and make you mega rich .
Let's have a look at what potentials and competences you have –
We all have 3 areas of competence , most of us have neglected 2 of them which equally have the potential to earn you an income.
First area of competence – what you read in school , You go to school ,graduate , you write your cv , go out and get a job, that earns you an income .
Second area of competence – Your parents trade or business
For example , Your dad is a Taylor , he makes local suits , you could take on the tailoring service , ride on the clients and reputation he has built over the years , put on your Modern touch , revamp it and bring it into the 21st century , that earns you an income.
Third area of competence – Your God-given talent .
You naturally are a talented photographer . You get a small camera , become an official photographer. Before you know it you will be hired to cover events and that also earns you an income.
Starting a small-scale business , doesn't always need the Huge amount of money you think.
What do people need, what services do they want? All you need to do Is give them .
A friend of mine saw that parents didn't have time to take their children on holiday , so she started offering the service of taking the children with chairpersons . She didn't need any money to start , parents paid her to take their children , today she travels with schools , families , 3 times a year.
A graduate of 3 years who couldn't get a job, noticed that most of the children in her estate had untidy hair , on Monday as they went to school. She went on a 3 months course to learn how to weave hair . Spent a little money on leaflets , informing neighbours that she could give a home service to weave CHILDREN'S hair over the weekend , gradually she started to weave hair from Friday evening , all through Saturday and Sunday evening . Today she employs 10 girls and has a staff bus to drop them off , every weekend to give the home service.
Another graduate could cut hair , he started by cutting his co tenants hair for half the price other professional barbers charged , all he had was 1 clipper, a water proof body cover and a hand-held mirror. Today he has 4 barbering saloons.
A law graduate took on her mothers trade of cooking. Her mum had a small Buka , where she sold yam flour . It was run down , but a lot of people came to buy it as a take away meal. After 4 years of looking for a job in a law firm with no success , she finally decided to work with her mum. Today , it's a full-fledged posh BUKA , with a sit down area and a separate take away area. She's built her own house and opened 3 more yam flour bukas, within a short time.
Kola a Bsc holder, a football fan to the core, noticed that when a football match was played , people gathered at neighbours Windows to watch the match . He decided to open up the backyard of their bungalow as a viewing centre , he took the family television and got some benches from a school nearby put it in the backyard and charged a small fee. He then had them come evenings showing movies when there was no football match . Soon they started requesting for drinks and light snacks etc. Today he has a large bar / viewing centre , which earns him a tidy some of money every weekend.
Tony,a business admin graduate , drove to work from the mainland to the island alone, he struggled to pay for a lot of his bills, his salary as an office manager , was hardly enough. One day he gave a colleague a lift , the colleague offered to pay for petrol if Tony could give him a ride everyday . Soon he had 3 others he picked and he charged the same as the normal commercial drivers , even though his car was nicer and had air conditioning . Today he has two other cars that offer the same comfortable luxury commute to and from work for people who don't want to drive but want the comfort and convince of a door to door service .
You can also find a service to give which will bring in daily income , it might start being very little , but remember , little drops of water , make a mighty ocean.
God bless you as you decide to get up from where you are and stop feeling sorry for your self or depending on someone to feed you , God has given you all that you need to succeed , he has opened the door for you and all he needs you to do , IS TO WALK THROUGH IT AND GET RICH.
If you would like advice on what you can do with your talent or parents trade , please send us a message and we love to give our little advice to set you on your way.